Off to the Post Office in Leicester as this is the nearest P.O. to me that issues International Driver's Permits on the spot. I needed the permit straight away as it looks like I'll be driving a motorbike while in the Congo. Although don't tell my insurance company.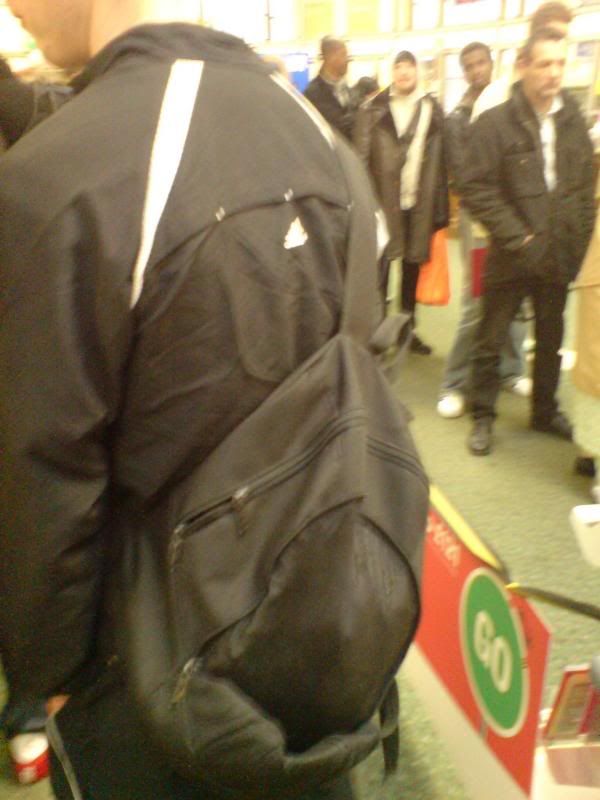 It was quite a long queue. And rather rowdy too, with much talking and laughing within the ranks. I had not been standing in the queue for a couple of minutes when a lady shot past on my right and planted a kiss on the cheek of a gentleman three persons ahead.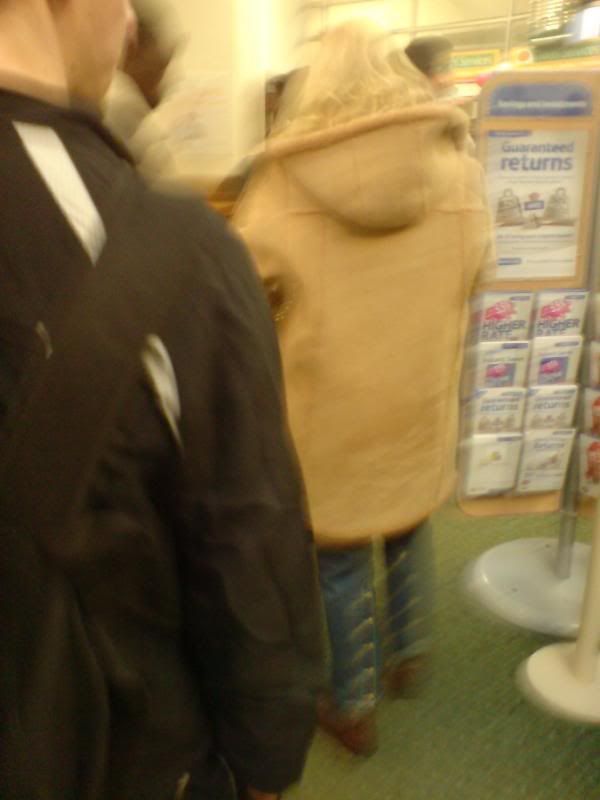 That's her above. The fuzzy beige shape with buttons up the back of her legs.
She was very pleased to see the gentleman and was quite flirtatious. She often touched his arm and even placed her hand on his chest, twice. She clearly thought him a good catch, even though in his right hand he carried a McDonalds Happy Meal.
That's him there, with his dreads in a ponytail.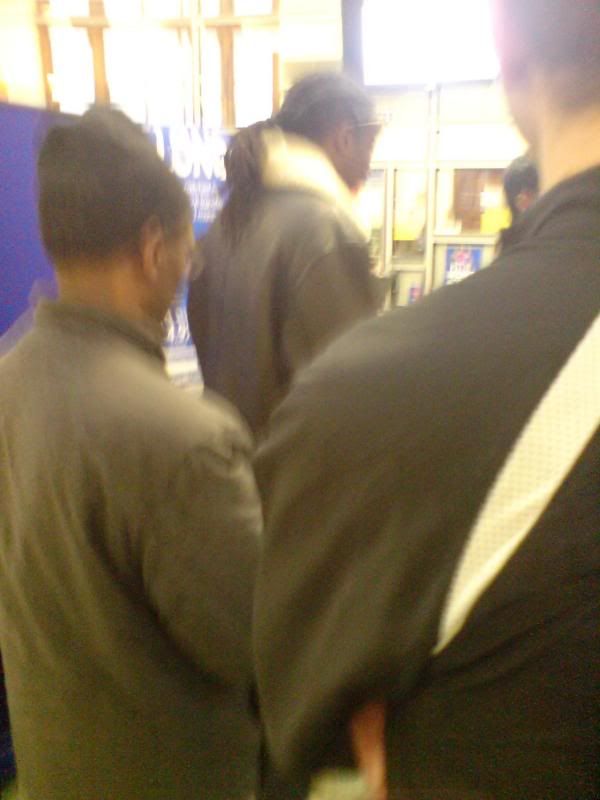 It was at this point when the two ladies behind me, who were strangers to each other, started commenting on whether the Lady in Beige intended to keep her appropriated place in the queue. If it was not for her lascivious behaviour I'm sure that they would not have tutted quite so loudly, but tut they did. And I'm rather certain that the Lady in Beige heard one of their tuts, with her chosen response being to merely run her fingers through her full bodied head of hair. The vixen.
I actually didn't mind so much, and rather enjoyed her show. She was very good at it and, although she was neither posh nor a market stall holder, she said Darling quite a lot, especially to the gentleman in front who she occasionally banged into with her bag. I am sorry Darling.
As we made our way around the barriers, and approached the front of the queue, yet another lady passed me on my right, but this time with a small boy in tow who was also carrying a McDonalds Happy Meal. She was delighted to see the Lady in Beige, and the Lady in Beige also showed delight but stepped away from the man with the Happy Meal.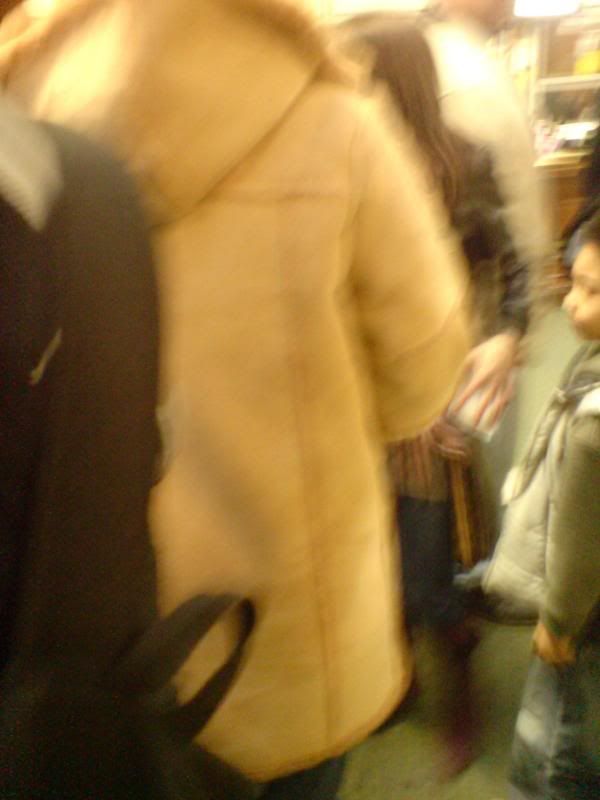 That's the edges of Lady number 2 and small child, to the right of the picture.
Cashier number 4 please, Cashier number 6 please, and the group were soon at the front of the queue. The Lady in Beige skilfully turned her back to the counters so that she could chat to the couple and also be at the front of the group, and once Cashier number 7 please was announced she was Lovely to see you Darling, and you Darling, and made her way to the counter.
I could still hear her Darlings when I was at till four, although to be fair, she wasn't that far away from me.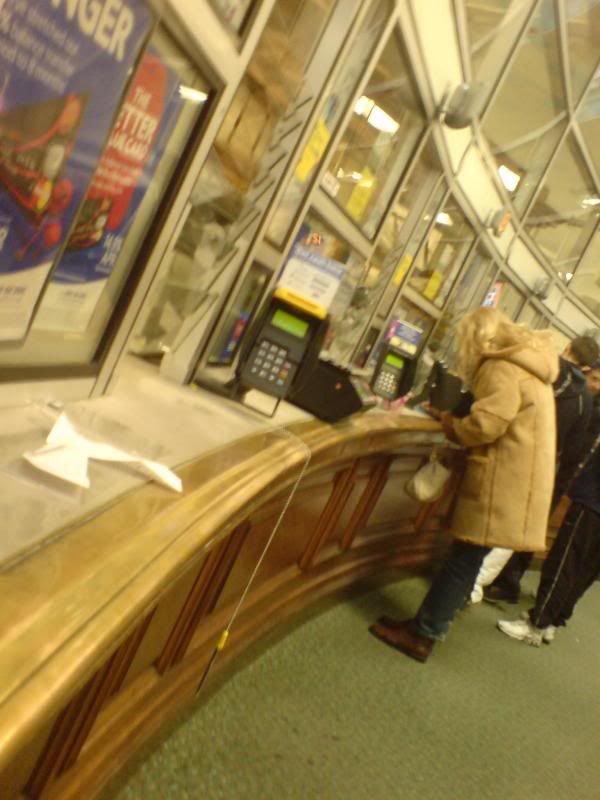 As I leave tomorrow, the day before Valentine's Day, Cashier number 4 wondered how I would get all my Valentines cards if I was already off on my travels. I was feeling rather bold and answered that I would get them all forwarded to me in a great big parcel. "To the Congo?" she said, "you'll be lucky."
She's right. There'll be no post and probably not any queues either. Although should I happen to chance upon one, I can guarantee that it will feature here on Standinaqueue.
I will, in a couple of weeks, be starting a new blog. One that is more appropriate to my location. Although the address of said blog is yet unknown, as well as the topic, but once decided I'll post the address here and would love it if you all came along.
The time spent here at Standinaqueue has been rather lovely, and for that I thank you all.
Cheers.