At the cashpoints at Tesco, despite directions otherwise, those who want to extract money from the machines will line up in one queue.
And, although enforced by the barrier, this is also the rule at the Bank of Scotland.
At the Royal Bank of Scotland however, there is a door between the two cashpoints and so a separate queue forms for each hole in the wall.
The queue on the left of the door: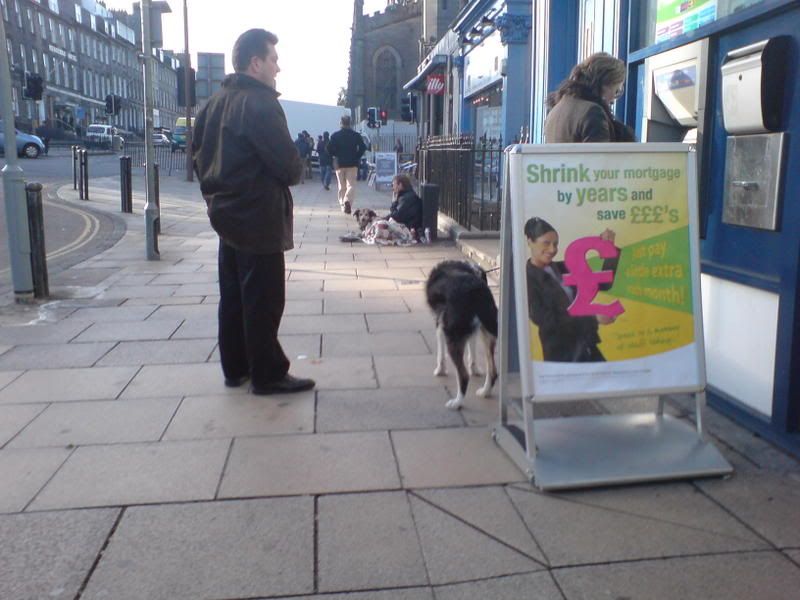 And this one on the right:
Although the rules change slightly as to the number of queues in place, a system remains which is easy to understand.
But imagine the horror we British face when confronted with four cashpoints in a row and an insufficient area in which to queue.
Added to the mix is that these cashpoints are just off the Royal Mile in Edinburgh and therefore prone to be frequented by foreigners.
Is this chap waiting for a cashpoint or his friend?
It's hard to tell by his posture. A lady stood behind him for a while and then decided to take a stance further back on the pavement.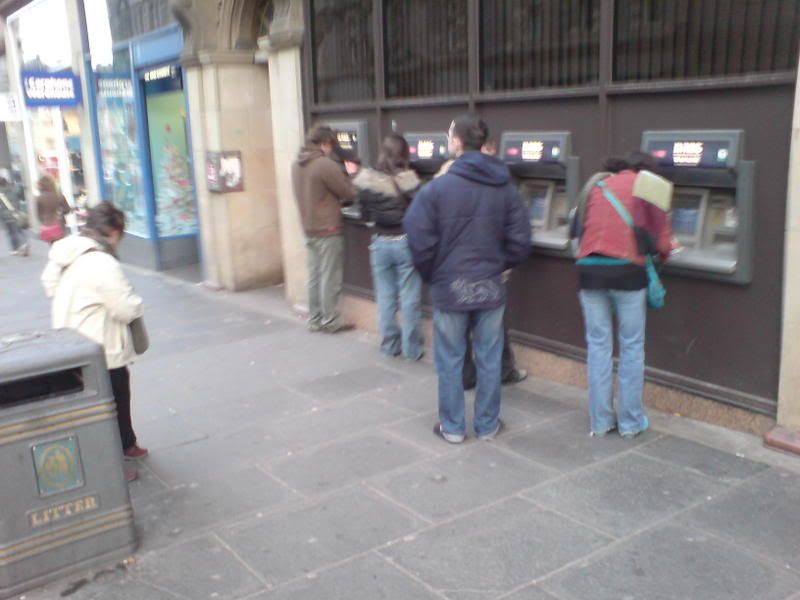 Good positioning. It clearly shows that she is waiting to use a cashpoint and that she is waiting for the first one to become available.
But behind the blurry figure in the foreground, a couple joined the area and stood waiting to use the machine on the far right and, should this cashpoint become available first, now had the advantage over the lady in the white coat by being in a closer position.
This panicked the lady somewhat and she kept looking in their direction. She also took a couple of steps to the left before side stepping back to her original position, and had clearly contemplated moving to the left of the cashpoints to take this vantage point should other opportunistic Europeans start to appear.
Watching this as a British man, it indeed became rather tense, and I am relieved to tell you that Fortuna smiled down on this lady and the cashpoint second from the left became available first.